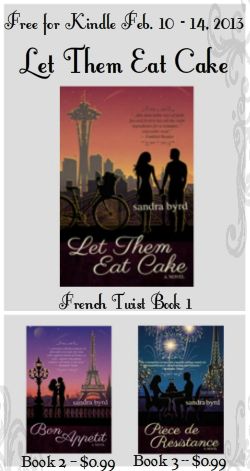 About the book:
Book One in the French Twist Series.
Lexi Stuart is at a critical crossroads. She's done with college but still living at home, ready to launch a career but unable to find a job, and solidly stalled between boyfriends.
When a lighthearted conversation in French with the manager of her favorite bakery turns into a job offer, Lexi accepts. But the actual glamour is minimal: the pay is less than generous, her co-workers are skeptical, her bank account remains vertically-challenged, and her parents are perpetually disappointed. Her only comfort comes from the flirtatious baker she has her eye–but even may not be who he seems to be!
So when a handsome young executive dashes into the bakery to pick up his high profile company's special order for an important meeting–an order Lexi has flubbed–she loses her compulsion to please. Something inside Lexi clicks. Laissez la révolution commencer! Let the revolution begin! Instead of trying to fulfill everyone else's expectations for her life, Lexi embarks on an adventure in trusting herself and her God with her future–très bon!
Meet Sandra:
After earning her first rejection at the age of thirteen, bestselling author Sandra Byrd has now published more than forty books. Her adult fiction debut, Let Them Eat Cake, was a Christy Award finalist, as was her first historical novel, To Die For: A Novel of Anne Boleyn. To Die For was also named by Library Journal as a Best Books Pick for 2011 and The Secret Keeper: A Novel of Kateryn Parr, was named a Library Journal Best Books Pick for 2012. Roses Have Thorns: A Novel of Elizabeth I, will publish in April, 2013.
Sandra has also published dozens of books for tweens and teens.
A former textbook acquisitions editor, Sandra has also published many nonfiction articles and books. She is also passionate about helping new writers develop their talent and their work toward traditional or self publication. As such, she has mentored and coached hundreds of new writers and continues to coach dozens to success each year.
Please visit
www.sandrabyrd.com
to learn more, or to invite Sandra to your bookclub via Skype.
Connect with Sandra on Twitter:
www.twitter.com/sandrabyrd
Connect on Facebook: https://
www.facebook.com/sandrabyrdwrites
Enter Sandra's Petits Fours Giveaway. US residents only: http://
www.sandrabyrd.com/adults-french-twist.php